Diving Series Programs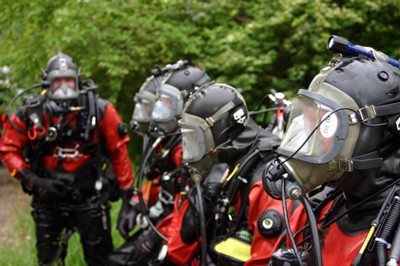 Prerequisite for all dive training programs:
Must be a member of a public safety agency
Must provide proof of open-water certification at registration
At least 18 years of age
Students diving in dry suits must submit proof of dry suit training.
Students must also read and complete a RSTC Medical Statement.
Any diver answering yes to a contraindication is required to have a physician's signature to participate in the diving portions of the programs.
Please make sure to present your RSTC Medical Statement to your instructor at the beginning of class.
Our dive training programs are designed for personnel who are physically fit. Participants are encouraged to participate after successfully completing the IADRS Watermanship Test or testing to a fitness level of 13 MET (Metabolic Equivalents) or greater. Participants with aerobic fitness questions or concerns should consult their physician prior to in-water training. Participants who have poor aerobic fitness may attend these programs as surface support personnel with the approval of the instructor.
Other prerequisites may apply and Trainer classes have separate application procedures.
Note: All trainer programs require an application. Click on the link below to for a downloadable application.
For other dive training applications or questions call Dive Rescue International (800) 248-3483
Cancellation Policy
Cancellations received 3 weeks prior to class start date receive a full refund. Cancellations received 8-21 days prior to class start date receive a 50% refund. Cancellations received 0-7 days prior to class start date do not receive a refund.
Research of Past Records
Instructors or students requesting record information prior to 1997 are assessed a $25.00 research fee. The fee for re-issue of certificates or cards is $10.00.