Prepare your team for potentially dangerous current diving operations
Current Diving (CD)
Duration: 3 days (24 hours)
Recommended for: certified divers and surface support personnel

Prerequisites:
Member of a public safety agency
At least 18 years of age
All diving personnel must provide proof of Dive Rescue 1 certification
Diving students need proof of open water certification (Surface support is exempt from this prerequisite)
Students diving in dry suits must submit proof of dry suit training with registration
Completing RSTC Medical Statement (including physician signature, if applicable)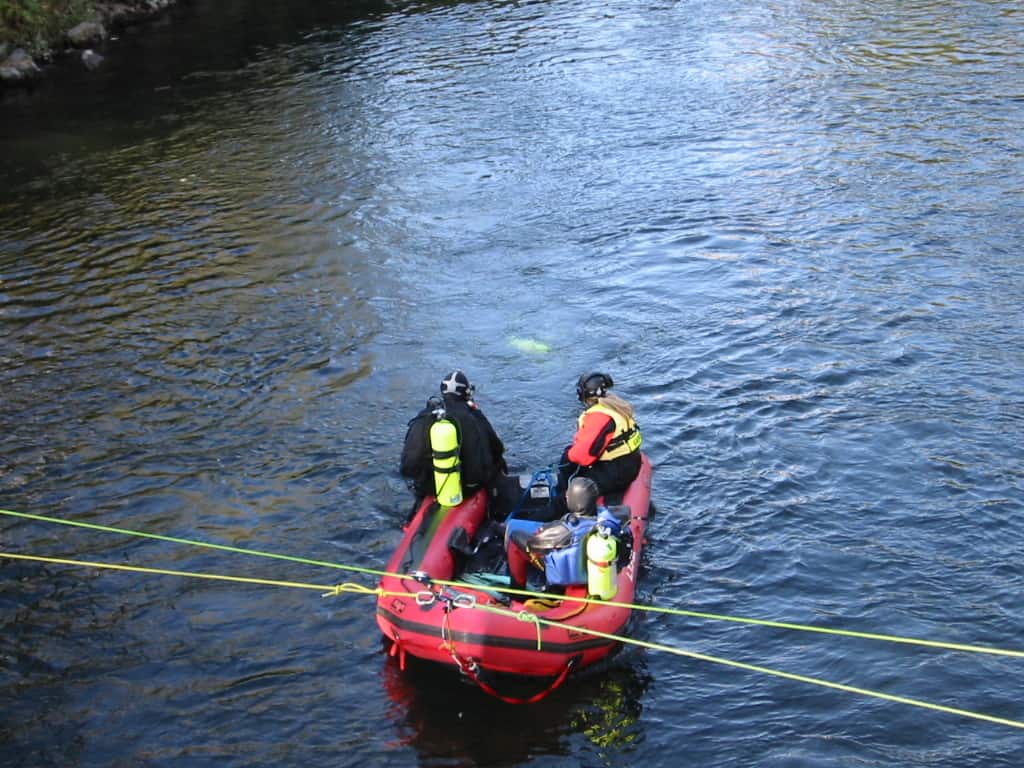 Course Objectives & Schedule
With two additional days of training, qualified members of your department could be certified as CD Trainers.
Training Calendar & Map
---
Course Registration Form
Overview
Prepare your team for current diving by learning to use specialized equipment, and proven search techniques. Upon successful completion of the Dive Rescue International program, students can safely complete complex, challenging, and potentially dangerous current diving operations. Our program teaches anchoring skills and high line techniques that prepare your team for various incident scenarios.
All of Dive Rescue International's diving courses are taught in a classroom, a pool and an open-water site allowing students to practice their new skills in a safe environment prior to the mandatory field scenario work. Students learn to organize and execute a safe and successful current diving operation. Course topics include: hydrology and dynamics of moving water, scene evaluation, self-rescue techniques, hazard assessment, preplanning operations, equipment selection, post-operative rescuer recovery, and search techniques.
Note To Applicants
This program is designed for personnel who are physically fit. Participants are encouraged to participate after successfully completing the IADRS Watermanship Test or testing to a fitness level of 13 MET (Metabolic Equivalents) or greater. Participants with aerobic fitness questions or concerns should consult their physician prior to in-water training. Participants who have poor aerobic fitness may attend this program as surface support personnel with the approval of the instructor.
---