Dive Rescue I is the internationally renowned three-day (24-hour) training program for certified divers and surface support personnel. Successful completion of the Dive Rescue 1 program provides basic methods and skills necessary for a Public Safety Diver to function safely and effectively at a water accident. From scene evaluation to incident debriefing, this program covers it all. Diving and surface support personnel learn to apply the latest techniques in underwater rescue and recovery to prepare them to respond effectively and safely to water incidents. This program is presented in the classroom, pool and open-water to allow students to become familiar with the techniques prior to field scenarios. Successful completion of this program is measured in class participation (including 2 dives) and an end of program comprehensive test.
Key training topics and the associated objectives include:
DROWNING AND PSD FATALITIES
TEAM ORGANIZATION AND MANAGEMENT
SEARCH PATTERNS
SCENE EVALUATION
VICTIM RETRIEVAL
SERVICE TO THE FAMILY, MEDIA AND OTHER AGENCIES
VEHICLE-IN-WATER ACCIDENTS
NFPA STANDARDS Upon completion of this program, including in-water work, personnel address several NFPA standards set forth for the Technician Level. Surface Support personnel who complete this program address the NFPA standards set forth for the Awareness and Operations Level.
BE SURE TO BRING All students must bring: US Coast Guard approved P.F.D. with knife and whistle, adequate clothing and protection from the environment and pen and paper for note-taking and sketching. Diving students must provide their own equipment: Scuba regulator: recently serviced and environmentally protected with alternate air source (i.e.: octopus, Air II, etc.), timing device, depth and submersible pressure gauges, BC with oral/power inflator, two tanks with current Hydro & VIP, mask, snorkel, fins, weight belt and two cutting tools (knife, wire cutters, or trauma shears).
PREREQUISITES All students must be a member of a public safety agency and at least 18 years of age. Students must read and complete a RSTC medical statement prior to attending class. Any diver answering yes to any contraindication must have the form signed by a physician. Diving students must have proof of open water certification. This program is designed for personnel who are physically fit. Participants are encouraged to participate after successfully completing the IADRS Watermanship Test or testing to a fitness level of 13 MET (Metabolic Equivalents) or greater. Participants with aerobic fitness questions or concerns should consult their physician prior to in-water training. Participants who have poor aerobic fitness may attend this program as surface support personnel with the approval of the instructor.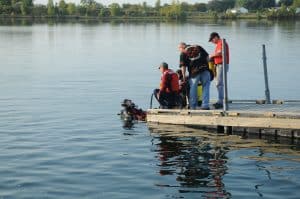 Join us for Dive Rescue 1 in Little Hocking, OH – July 23-25, 2021