build a competent and safe ice diving team
Ice Diving Operations Trainer (IDOT)
Duration: Pre-Course Study (50 hours) + 3-Day Course (24 hours) = Total 74 hours
Recommended for: Experienced open-water divers.
Prerequisites:
Sponsorship by a public safety agency
At least 21 years of age
A minimum of 10 logged dry suit dives
Current Dive Rescue 1 Trainer certification
Proof of Ice Diving certification
Training Calendar & Map
---
Course Registration Form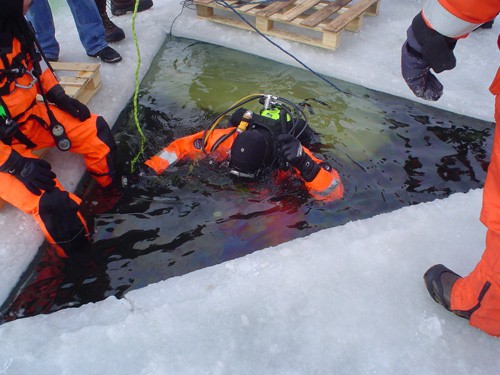 Ice Diving Operations Trainer Application
Overview
The Ice Diving Operations Trainer Program is uniquely designed for public safety personnel. This course presents ice diving operations training in a practical and efficient system, giving Trainers the tools to build a competent and safe team. Successful Ice Diving Operations Trainer graduates will return to their departments with a complete training system. With the purchase of student kits from Dive Rescue International, Trainers will be able to conduct in-house ice diving operations training for departmental personnel.
Course Topics
Teaching the Adult Learner
Preparation and Effective Presentation of the Ice Diving Operations Program
Testing and Evaluation of Students
Identifying and Evaluating
Ice Strength and Formation
How Cold Affects the Victim and the Diver
Equipment and Personnel Considerations
Scene Evaluation and Assessment of Risk/Benefit Factors
Search Patterns
Lost Diver Drill
Note To Applicants
This program is designed for personnel who are physically fit. Participants are encouraged to participate after successfully completing the IADRS Watermanship Test or testing to a fitness level of 13 MET (Metabolic Equivalents) or greater. Participants with aerobic fitness questions or concerns should consult their physician prior to in-water training.