learn to locate contraband, explosives, & detect terrorist activities
Special Marine Operations (SMO)
Duration: 3 days (24 hours)
Recommended for: Certified divers and surface support personnel
Prerequisites:
Member of a public safety agency
At least 18 years of age
Proof of Dive Rescue 1 Specialist Certification
Students diving in dry suits must summit proof of dry suit training with registration
Complete RSTC Medical Statement (including physician signature, if applicable)
Training Calendar & Map
---
Course Registration Form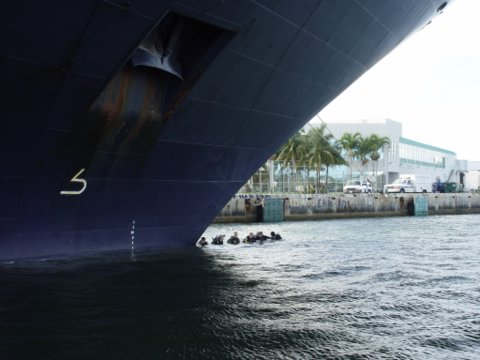 Course Objectives
Overview
Students in Special Marine Operations courses learn to locate contraband, explosives, parasitic devices, and detect terrorist activities. This course trains divers to safely conduct pier and hull searches on vessels currently in commercial ports and inland waterways. This is an extremely hazardous endeavor and should only be practiced by highly trained individuals. Special Marine Operations is conducted in a classroom, a pool and an open-water site. The pool exercises allow students to practice their new skills in a controlled environment before the required field scenarios at the open-water site.
Note To Applicants
This program is designed for personnel who are physically fit. Participants are encouraged to participate after successfully completing the IADRS Watermanship Test or testing to a fitness level of 13 MET (Metabolic Equivalents) or greater. Participants with aerobic fitness questions or concerns should consult their physician prior to in-water training. Participants who have poor aerobic fitness may attend this program as surface support personnel with the approval of the instructor.