Underwater Crime Scene Technician II
Underwater Crime Scene Technician II Course Objectives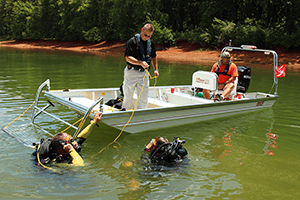 Due to the sensitive information presented in Underwater Crime Scene Technician II the course is only available to law enforcement personnel or persons sanctioned by a law enforcement agency to assist with evidence recovery. Detailed information is presented regarding crime scene processing, fingerprint recovery, laboratory parameters, photography, videography, and advanced search patterns. This course deals specifically with body recovery operations making the content graphic in nature.
Duration – 3 days (24 hours)
Recommended for – certified divers and surface support personnel
Prerequisites
Member of a public safety agency
At least 18 years of age
Proof of Dive Rescue I Specialist or Underwater Crime Scene Technician I certification
Reading and properly completing Medical History Statement
Students diving in drysuits must submit proof of drysuit training with registration
Member of a law enforcement agency and a letter of sponsorship verifying that the student provides evidence recovery for a law enforcement agency
This program is designed for personnel who are physically fit. Participants are encouraged to participate after successfully completing the IADRS Watermanship Test or testing to a fitness level of 13 MET (Metabolic Equivalents) or greater. Participants with aerobic fitness questions or concerns should consult their physician prior to in-water training. Participants who have poor aerobic fitness may attend this program as surface support personnel with the approval of the instructor.