recognize potentially life-threatening signs and symptoms
Duration – 2 days (20 hours)
Recommended for – Dive team members, water rescue team members, law enforcement and fire service personnel

Prerequisites:
Member of public safety agency
At least 18 years of age
Proof of current First Aid or EMT/Paramedic certification
Proof of current CPR certification

Areas of Focus:
Pulmonary barotrauma
Medical evaluation of divers
Monitoring divers
Conducting neurological exams
Decompression sickness
Oxygen administration
Field stabilization of compressed gas injuries
Training Calendar & Map
---
Course Registration Form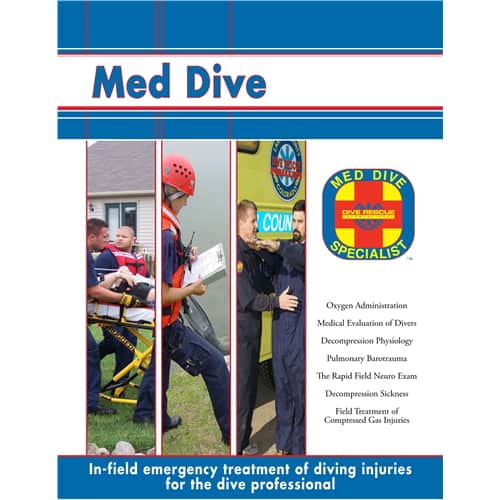 Course Objectives & Schedule
Overview
Keep your dive team healthy and safe through prevention. Learn to recognize potentially life-threatening signs and symptoms associated with scuba diving. Dive Rescue International's Med Dive Training program includes numerous hands-on practical sessions. An added benefit of this course Med Dive manual makes an excellent diving resource for your team.