Train your members to become competent dry suit divers
Dry Suit Diving Trainer (DSDT)
Duration: 3 days (24 hours)
Recommended for: Current Public Safety Scuba Instructors and Dive Rescue 1 Trainers
Prerequisites:
Sponsorship by a public safety agency
21 years of age
Current Public Safety Scuba Instructor or current Dive Rescue 1 Trainer
Proof of current Dry Suit Diving certification
10 Dry Suit dives
Current First Aid, EMT or Paramedic certification
Current CPR certification
Training Calendar & Map
---
Course Registration Form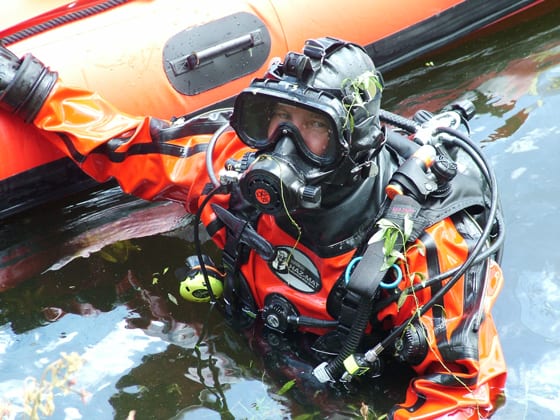 Dry Suit Diving Trainer Application
Overview
Without the proper protection from your potentially hazardous diving environment, your rescue/recovery operation may be hindered or even worse, halted. One of the first steps to preparing for contaminated water or ice diving is learning how to dive in a dry suit. The Dry Suit Diving Trainer program is conducted in a classroom, pool and an open-water site to allow students to practice their new skills in a controlled environment before the field scenarios.
Course Topics
Dry Suit History
Types of Dry Suits
Dry Suit Accessories
Proper Sizing and Custom Adjustments
Emergency Procedures and Techniques of Dry Suit Diving
Cold Water Physiology
Repairs, Care and Maintenance
Dive Equipment System Integration
Note To Applicants
This program is designed for personnel who are physically fit. Participants are encouraged to participate after successfully completing the IADRS Watermanship Test or testing to a fitness level of 13 MET (Metabolic Equivalents) or greater. Participants with aerobic fitness questions or concerns should consult their physician prior to in-water training.