respond to swiftwater emergency situations
Training Calendar & Map
Course Registration Form
Duration – 3 days (24 hours)
Recommended for – Water rescue teams, law enforcement and fire service personnel

Prerequisites:
Member of a public safety agency
At least 18 years of age
Certificate of basic swiftwater training from a recognized training organization within the last 3 years
Students should be prepared for multiple challenging in-water scenarios. All students are required to have basic swiftwater rescue skills including:
Excellent swimming skills
Operational experience with high-lines
Working knowledge of knots, rigging, and mechanical advantage systems.
Swimming challenges
Swiftwater rescue board drills
Identifying high probability search areas
Rescue and recovery procedures
Body characteristics in moving water
Triage exercises
Water-bound victim extrication exercises
Strainer drills
Search strategies and techniques
---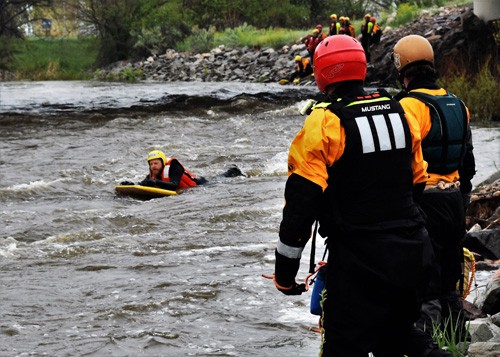 Course Objectives & Schedule
Overview
Dive Rescue International's renowned program for public safety swiftwater responders teaches the knowledge and skills needed to successfully organize and manage inherently dangerous and complicated swiftwater rescue events to maximize positive outcomes.
Note To Applicants
This program is designed for personnel who are physically fit. Participants are encouraged to participate after successfully completing the IADRS Watermanship Test or testing to a fitness level of 13 MET (Metabolic Equivalents) or greater. Participants with aerobic fitness questions or concerns should consult their physician prior to in-water training. Participants who have poor aerobic fitness may attend this program as surface support personnel with the approval of the instructor.