Improve your divers' competency and confidence in deep water scenarios
Deep Dive Operations Trainer (DDOT)
Duration: 1 day (8 hours)
Recommended for: Experienced trainers who want to expand on their department members' skills in diving operations greater than 60' and up to 130'.

Prerequisites:
Sponsorship by a public safety agency
At least 21 years of age
Current Public Safety Scuba Instructor or Dive Rescue 1 Trainer certification
Proof of Deep Dive Operations certification
Training Schedule & Map
---
Course Registration
---
---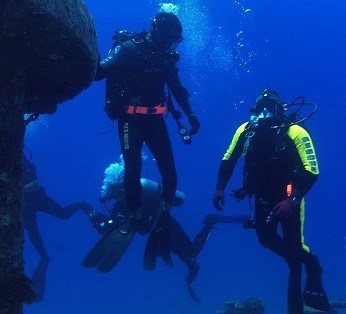 Student Course Objectives
Overview
Successful completion of the Deep Dive Operations Trainer (DDOT) program provides the Instructor with skills required to train their divers to safely and confidently plan and conduct open circuit, no-deco scuba dives on air for water depths in the range of 60' to 130'. This program teaches various methods to maintain proper descent rate and orientation during descent, participation in cognitive function exercises to assess subtle presence of nitrogen narcosis, controlling buoyancy on ascents/descents and teaching divers planned ascent profiles so that all divers remain within the no stop limits. Obtaining the DDOT certification allows the Instructor to teach the Deep Dive Operations program in-house and to mutual aid departments.
Note To Applicants
This program is designed for personnel who are physically fit. Participants are encouraged to participate after successfully completing the IADRS Watermanship Test or testing to a fitness level of 13 MET (Metabolic Equivalents) or greater. Participants with aerobic fitness questions or concerns should consult their physician prior to in-water training. Participants who have poor aerobic fitness may attend this program as surface support personnel with the approval of the instructor.