Improve your students' competency and comfort in full face mask diving
---
Full Face Mask Trainer (FFMT)
Duration: 1 day (8 hours of in-person training*)
Recommended for: Experienced trainers who want to expand on their department members' skills in the selection, preparation, donning, and safety diving with a full face mask.

Prerequisites:
Sponsorship by a public safety agency
At least 21 years of age
Current Public Safety Scuba Instructor or Dive Rescue 1 Trainer certification
Proof of Full Face Mask diving certification
Training Schedule & Map
---
Course Registration
---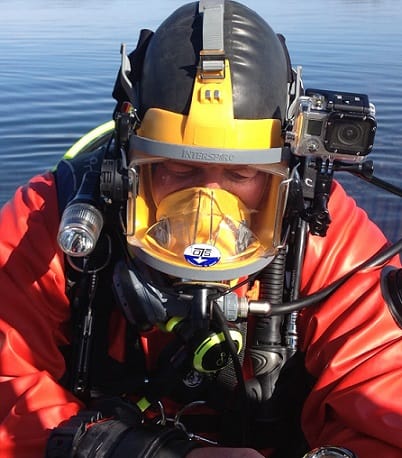 *Dive Rescue International also offers a self-taught Full Face Mask Trainer program. Required Documentation for the self-taught FFMT program:
Sponsorship by a public safety agency

Full Face Mask Trainer Standards

Proof of Full Face Mask diving certification

Documentation of 25 full face mask dives
Overview
Successful completion of the Full Face Mask Trainer (FFMT) program provides the Instructor with skills required to improve the students' ability to select, inspect, prepare, don, and safely dive with a full face mask in an open water setting applicable to their jurisdiction e.g. contaminated waters. Instructors will be able to explain the purpose and benefits of full face mask diving as well as underwater communications (UWC). Obtaining the FFMT certification allows the Instructor to teach the Full Face Mask program in-house and to mutual-aid departments.
Note To Applicants
This program is designed for personnel who are physically fit. Participants are encouraged to participate after successfully completing the IADRS Watermanship Test or testing to a fitness level of 13 MET (Metabolic Equivalents) or greater. Participants with aerobic fitness questions or concerns should consult their physician prior to in-water training. Participants who have poor aerobic fitness may attend this program as surface support personnel with the approval of the instructor.