Become equipped to teach department personnel to respond to surface & subsurface accident scenes
---
Dive Rescue 1 Trainer (DR1T)
Duration: Pre-Course Study (50 hours) + 5-Day Course (60 hours)
= Total 110 hours
Recommended for: All public safety first responders
Prerequisites:
Sponsorship by a public safety agency
21 years of age
Current PSSI or another RSTC approved scuba instructor certification
Current Dive Rescue 1 (DR1) certification
Dive Rescue II certification

*

Med Dive certification
*Dive Rescue II certification is achieved by attending and successfully completing any two technical diving classes. Courses include: Boat Based Operations, Current Diving, Dry Suit Diving, Evidence Recovery Operations, Haz Mat Diving, Ice Diving Operations, Light Salvage and Recovery, Public Safety Diver Survival, Special Marine Operations – Hull Search, Surface Supplied Air, Underwater Crime Scene Tech II.
Training Calendar & Map
---
Course Registration Form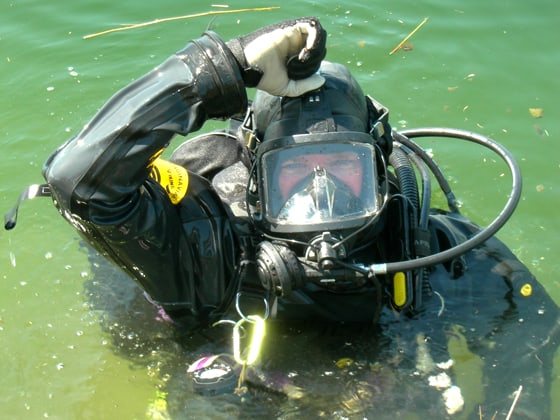 DR1 Trainer Application
Recertification Requirements
Overview
The Dive Rescue 1 Trainer (DR1T) program is an intensive leadership and trainer course. It is designed to prepare the experienced scuba instructor to teach and maintain dive rescue certification for department personnel as Dive Rescue 1 Specialists. The DR1T will be introduced to a teaching system that addresses the special teaching techniques and educational needs of the emergency services adult learner. The program prepares instructors to be stimulating, confident, and competent.
Instructors will fine tune the teaching methods necessary to help students develop a positive learning attitude. The Dive Rescue 1 Trainer will be able to teach and certify divers on his/her team in the fundamentals of dive team operations.
Course Topics
Drowning
Dive Team Organization and Management
Search Patterns
Scene Evaluation
Service to Family, Media and Other Agencies
Vehicle Accidents
Underwater Investigation
Note To Applicants
This program is designed for personnel who are physically fit. Participants are encouraged to participate after successfully completing the IADRS Watermanship Test or testing to a fitness level of 13 MET (Metabolic Equivalents) or greater. Participants with aerobic fitness questions or concerns should consult their physician prior to in-water training.