TRAIN COMPETENT AND SAFE PUBLIC SAFETY DIVERS
Public Safety Scuba Instructor (PSSI)
Duration: 5 days (60 hours) This program also requires a significant pre-course study commitment. On average, preparation time is 60 hours.
Recommended for: Experienced open-water divers.
Prerequisites:
Sponsorship by a public safety agency
At least 21 years old
Current Dive Rescue 1 certification
Completion of Med Dive [must be 2 day (20 hour) course]
A minimum of 100 logged dives (at least 50% must be training/operational dives while remaining 50% can be recreational dives with only 2 pool dives/year acceptable)
Current First Aid, EMT or Paramedic certification
Current CPR certification
Training Calendar & Map
---
Course Registration Form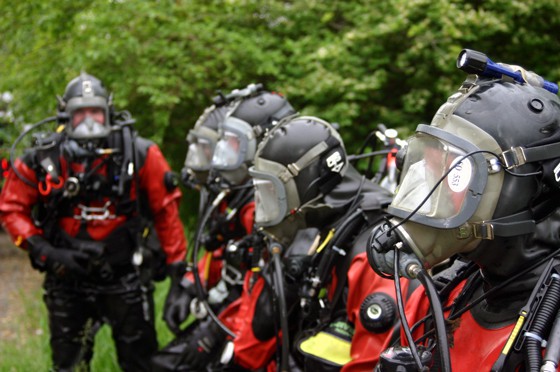 Public Safety SCUBA Instructor Application
Recertification Requirements
Overview
Public Safety Scuba Instructor is Dive Rescue International's most physically demanding and study intensive program. This unique program is designed to help dive teams develop a cost effective way to certify their Public Safety Divers (PSDs). By sending one of your team's most experienced divers through this program, your department's Public Safety Scuba Instructor (PSSI) can standardize non-divers and open-water divers as PSDs. A PSD certification combines the fundamentals taught in an open-water class with an emphasis on the exacting skills required to successfully dive in a rescue/recovery operation. Both the Public Safety Scuba Instructor and Public Safety Diver programs meet or exceed all the requirements set forth by the Recreational Scuba Training Council. After completion of the PSSI program, graduates may purchase PSD student kits to train members of their own department as PSDs.
Instructors will fine tune the teaching methods necessary to help students develop a positive learning attitude. The Dive Rescue I Trainer will be able to teach and certify divers on his/her team in the fundamentals of dive team operations.
Course Topics
Drowning
Dive Team Organization and Management
Search Patterns
Scene Evaluation
Service to Family, Media and Other Agencies
Vehicle Accidents
Underwater Investigation
Note To Applicants
This program is designed for personnel who are physically fit. Participants are encouraged to participate after successfully completing the IADRS Watermanship Test or testing to a fitness level of 13 MET (Metabolic Equivalents) or greater. Participants with aerobic fitness questions or concerns should consult their physician prior to in-water training.