organize and manage safe swift water rescue operations
Duration – 3 days (24 hours)
Recommended for – Dive team members, water rescue team members, law enforcement and fire service personnel

Prerequisites:
Member of a public safety agency
At least 18 years of age
Areas of Focus:
Hydrology
Dynamics of moving water
Site survey
Hazard identification
Protective equipment
Rope tactics
Boat-based techniques
Survival techniques and rigging systems
Low-head dams
Risk/benefit analysis
Training Calendar & Map
---
Course Registration Form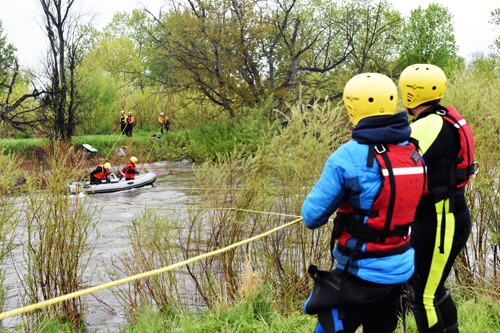 Course Objectives & Schedule
Overview
Swift water rescue operations are inherently dangerous and with the complications of fast current, low-head dams, and/or hidden debris they can become deadly. Prepare for these hazards by learning how to organize and manage safe swift water rescue operations. Participants in the swift water rescue training program should be prepared for multiple in-water scenarios.
Note To Applicants
This program is designed for personnel who are physically fit. Participants are encouraged to participate after successfully completing the IADRS Watermanship Test or testing to a fitness level of 13 MET (Metabolic Equivalents) or greater. Participants with aerobic fitness questions or concerns should consult their physician prior to in-water training. Participants who have poor aerobic fitness may attend this program as surface support personnel with the approval of the instructor.